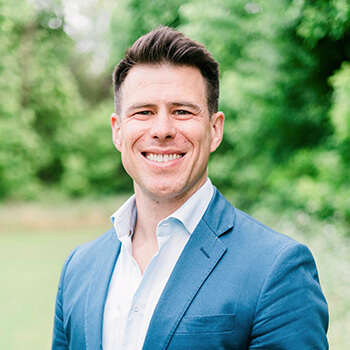 Dr. Matthew Schofield is the expert you want to design and develop your smile. He completed his three-year residency program at Columbia University in New York City as chief resident. He earned both prestigious orthodontic scholarships available to residents: the Thomas Cangialosi Award and Henry Nahoum Award for clinical and research excellence.
As a dental student at NYU, his ethical and academic performance qualified him for induction into the national dental honor society, Omicron Kappa Upsilon (OKU). He was honored to give the valedictorian speech at the famed David Geffen Hall at Lincoln Center near Columbus Circle.
Humanitarian service trips to Grenada and a stint in the Dominican Republic have provided Dr. Matthew with rich cultural experiences that help him relate well to a wide diversity of patients. Specifically, his fluency in Spanish is invaluable for working with Hispanics in DFW.
Watch him light up when he sees the potential of your smile! Dr. Matthew can hardly contain himself when he realizes about five minutes into the initial consultation and exam what your smile can become. A beautiful smile is a secret weapon in life that boosts your spirit and confidence.
Dr. Matthew can't wait to give you that smile you've always wanted. The most satisfying aspect of practice for him are the relationships developed with patients and the genuine joy a patient feels on the day active treatment is completed (i.e., the braces are removed). Nothing compares to the excitement of a new smile! The rave reviews online further confirm that Dr. Matthew not only provides excellent clinical results, but does it with empathy and enthusiasm.
When he's not playing with his family, including three beautiful children, Dr. Matthew enjoys all sports, preparing for obstacle course races, and playing the guitar.